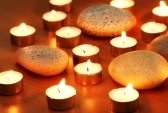 Relax with a rejuvenating facial
Escape to a world of your own
Surrender to the peaceful sounds
Tranquility can be yours
Dermalogica Products used in our Facial Treatments and sold.
Total Skin care is key to keeping our skin rejuvenated and glowing, however, at "Tranquil Escape", the main focus of our treatments is not only providing healthy skin care but 'relaxation'. We encourage a relaxing environment and strive to make each visit a special pause in your life. Relaxation is vital in our day to day lives and is a necessity to relieve stress. We all need an Escape from everyday pressures...even if only for an hour. So Surrender to the rest and peace that your mind, body and soul are craving. Tranquility is yours.....Make time for your self. REST..
Appointment Information:
When scheduling an appointment, please have a credit card available to secure your appointment. We ask that you please arrive 15 minutes prior to your appointment to complete client information forms.

A 24-hour cancellation notice is respectfully requested for all spa services to avoid a fifty percent service fee. Regretfully, no shows forfeit the full amount of services scheduled. Visa, Mastercard, and American Express accepted.

For your peace and relaxation, children under the age of 12 are not allowed.

Hours of Operation

Tuesday - Friday By Appointment

Saturday 9:00 a.m. - 3:00 p.m.
Call us to schedule your appointment today! (414) 444-9620

Prices, Hours and Services are subject to change

"Thank you for choosing Tranquil Escape Day Spa" .....
Like us on Facebook click here
Follow us on Twitter https://twitter.com/tranquil_escape
Follow us on Instagram http://instagram.com/tranquil_escape#
Follow us on Pinterest http://www.pinterest.com/tranquilspaday/