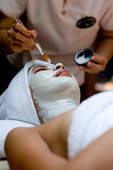 The Benefits of a Professional Facial

Regular Facial Treatments (4-6 weeks) help to maintain the health of the skin, correct certain skin conditions and slows down the aging process through deep cleansing, exfoliation and massage. Not to mention a relaxing and rejuvenating experience.
---
Customized Facial Services

Tranquil Signature Facial
60 minutes $70
Achieve healthy radiant skin with a deep cleansing, relaxing facial steam, skin analysis and gentle extractions, followed by a stress relieving shoulder, neck and face massage and a customized treatment mask.
Add a paraffin hand or foot treatment $10
Add a paraffin hand and foot treatment $15

The Ultimate Facial
90 minutes $95
All the benefits of the 60 minute facial, add paraffin hand and foot treatment. It doesn't stop there. I'll add a stress relieving scalp massage, hand and arm massage and foot massage.

Mini Escape Facial
30 minutes $45
This treatment is designed for those on the go. A deep cleansing under steam, followed by a customized treatment masque and a relaxing shoulder massage. Ideal for maintenance between facial treatments.

Extractions
20 minutes $25
If you don't have time for a facial and you need a blemish or blackhead removed, 20 minutes and your face will be blemish free!

Targeted Skin Treatments

Sensitive Skin Treatment
60 minutes $70
If your skin is looking red, inflamed or feeling itchy, then this is the treatment for you! Our super soothing cleansing will remove impurities from your skin, followed by a calming oatmeal masque that will instantly calm redness and reduce inflammation.

Age Smart Treatment
75 minutes $75
Are the signs of aging becoming more prevalent on hour skin? Give it a revitalizing power boost with this treatment designed to help firm, smooth, nourish, regenerate and energize your skin. Potent vitamins and hydroxyl acid exfoliation resurfaces and retexturizes and delivers immediate results. Your skin will be noticeably firmer, smoother and revived.
Series of 3 treatments ($10 savings) $215
Series of 6 treatments ($20 savings) $430

Skin Brightening Treatment (ChromaWhite Rapid Result)
60 minutes $75
Accelerate brightening, improve skin tone, enhance skin clarity and create a fresher, healthier appearance with this effective treatment. powerful exfoliants smooth skin and slough off dulling surface cells, helping to minimize the appearance of sun and age spots. Botanical extracts help prevent cellular discoloration for unsurpassed brightening and tonal balance. Intense moisturization helps smooth fine lines and dryness, improve barrier protection, nourish skin and shield against further environmental damage.
Series of 3 treatments ($10 savings) $215
Series of 6 treatments ($20 savings) $430

Clearing Acne Treatment
75 minutes $75
This is a 24-hour treatment system formulated to treat adult acne. We'll begin with a deep cleansing, followed by an exfoliation to remove pore-clogging skin cells and extractions to help clear current breakouts without spreading acne-causing bacteria. Ending with a soothing masque system that detoxifies, while calming irritation and redness.
Series of 3 treatments ($10 savings) $215
Series of 6 treatments ($20 savings) $430

Add on Treatments / A La Carte
Contour Mask
20 minutes $15
An intense, deeper serum penetrating, firming treatment. Can also be applied over the eye area for a soothing, firming eye treatment.

Revitalizing Eye Treatment
20 minutes $15
Designed to firm and tone the eye area. This treatment helps to diminish fine lines, reduce puffiness and soothe irritated, tired eyes.

Purifying Back Treatment
30 minutes (A facial for the back) $45
This treatment is for clients who need the benefits of both stress relief and purification on thier backs. Perfect for both men and women, even one treatment will leave the skin smooth while helping to combat any breakout activity and relax the muscles. A deep cleansing and exfoliation under steam followed by an aromatherapy massage designed for your back's most stressed-out parts.

Revitalizing Foot Treatment
20 minutes $25
The revitalizing foot treatment smooths and softens the feet. Say goodbye to rough, dry skin and hello to smoother, softer skin with this Revitalizing Foot Treatment that provides not just one but two types of exfoliation (Dermalogica's Exfoliating Body Scrub and Exfoliant Accelerator 26) and finishing with an oh so relaxing foot massage. A great addition to any facial treatment!

MicroZone treatment
20 minutes $25
Get on-the-spot skin solutions with MicroZone® treatments. Our expert skin therapists will analyze your skin, then perform a zone-specific treatment designed to solve your skin problem, in about 20 minutes. MicroZone® treatments are just the quick fix for troubled skin, and they're the ideal maintenance service between Dermalogica Skin Treatments.
Ear Piercing
Have your ears pierced professionally with a 14K or 24K plated earring stud.
24K Plated Gold $25
14K Solid Gold $35