For the Gentlemen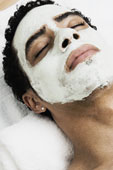 Gentlemen's Deep Cleansing Skin Treatment
65 minutes $70
His skincare needs are addressed with this deep cleansing facial. First we deep cleanse under steam and a gentle scrub will remove dead skin from the surface (great for ingrown hairs). Followed by a toner, relaxing face, neck, and shoulder massage. A masque removed with an aromatic steam towel and a customized moisturizer finishes the facial.

Purifying Back Treatment
45 minutes $50
This treatment is for clients who need the benefits of both stress relief and purification on their backs. Even one treatment will leave the skin smooth while helping to combat any breakout activity and relax the muscles. A deep cleansing scrub is followed by extractions and then an aromatherapy massage designed for your back's most stressed-out parts (Excellent for people with acne on shoulders and back).

Gentlemen's Pedicure
45 minutes $40
Just for him. Shape the nails, cleanup the cuticles, relax with a foot to calf massage and buff to a high shine.

Gentlemen's Mani-icure
30 minutes $30
Especially for the needs of a man. Shape the nails and cleanup the cuticles, a relaxing hand massage, and buff to a high shine.