Manicure Services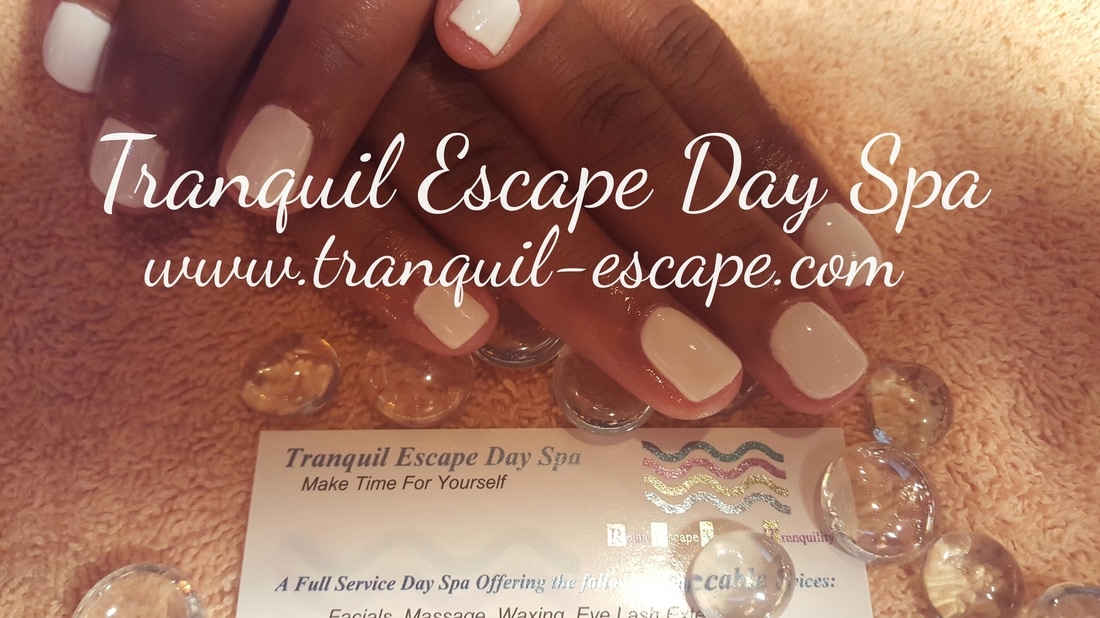 Tranquil Classic Manicure (45 min) $25
For clients on the go... Reshape the nails, cleanup the cuticles, massage moisture into the hands and finish with a fresh coat of polish.

Spa manicure (60 miin) $35
An intense 2-step citric acid exfoliation will rejuvenate, deeply hydrate and restore skin to a more youthful appearance. Topped off with a hand and arm massage and perfect polish.

Gentlemen's MAN-icure (45 min) $30
Especially for the needs of a man. Shaping of the nails cleanup the cuticles, hand massage, and buff to a high shine.

Little Lady Manicure (11yrs and under) $15
Shape the nails, massage moisture into hands, finishing with a polish of their choice. (Perfect for a Mother & Daughter's Day)

Add a Paraffin Hand Treatment $10
French Polish $5
Polish Change $15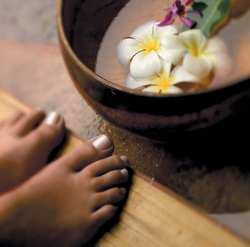 All pedicure services begin with a relaxing soak in our European Touch warm whirlpool foot bath and massage pedicure chair. Enjoy!!!


"Please Bring Sandals:"

---
Pedicure Services

Tranquil Classic Pedicure
45 minutes $35
Feet are soaked, skin is gently exfoliated, cuticles are perfected, and nails are clipped, reshaped, buffed and polished.

Tranquil Spa Pedicure
60 minutes $45
The ultimate in pedicures. A luxurious facial for the feet, which features a 4-step exfoliation process including sea salt and alpha-hydroxy acid, followed by a rejuvenating marine-algae foot masque and cucumber heel therapy to relieve dry, cracked heels. Finishing with a pampering foot and calf massage and a perfect polish for the nails.

Aromatherapy Spa Pedicure
60 minutes $50
A super-hydrating, aroma therapeutic pedicure packed with vitamins and minerals to promote beautiful, healthy-looking feet. Beginning with a fizzing mineral soak followed by a warm sugar scrub to gently exfoliate and smooth the skin. A moisturizing volcanic clay foot masque deeply hydrates followed by a relaxing foot and calf massage. Finished with a meticulous polish of the nails.

Tranquil Classic Manicure and Pedicure
90 minutes $55

Tranquil Spa Manicure and Pedicure
2 hours $70

Paraffin Hand or Foot Treatment - $10

French Polish - $5

Polish Change. - $15


Seasonal Pedicures

Chocolate Sole Pedicure
75 minutes $50
It doesn't just smell like chocolate, it is chocolate. Created with golden cocoa butter, organic cocoa powder, real chocolate extract and french cocoa absolute, this luscious pedicure is authentically rich and deliciously decadent. Catering to every chocoholics' ultimate fantasy.

Peppermint Pedicure
75 minutes $50
This cooling peppermint pedicure utilizes natural peppermint essential oil to deliver a brisk cooling sensation as exotic fruit extracts and nourishing butters work to smooth and hydrate. Never fear sandal season again.

Heel your Sole Pedicure
90 minutes $65
Relax and enjoy being pampered with this ultimate treatment, including cuticle care and exfoliation, mixed with a luxurious mask treatment and paraffin wrap to deeply hydrate, ending with a stress relieving hot stone massage before your polish.