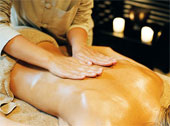 Tranquil Massage and Body Treatements

---
Swedish Massage
60 minutes $70
90 minutes $90
Feel the stress and emotional tension leave your body when you experience therapeutic touch, which helps relieve pain, promote detoxification, increase circulation and provide greater flexibility utilizing Swedish massage techniques.

Therapeutic Massage
60 minutes $70
90 minutes $90
Therapeutic massage is designed to relieve severe tension in the muscle and the connective tissue or fascia.

Deep Tissue Massage
60 minutes $75
90 minutes $95
For chronically tense and contracted areas such as stiff necks, low back tightness, and sore shoulders.

Aromatherapy Body Massage
60minutes $75
90 minutes 95
There's nothing like the aroma of pure essential oils to melt the stress away.

The Ultimate Hot Stone Massage
60 minutes $90
90 minutes $120
Smooth heated basalt stones are massaged on the body to melt away knots,tension and stress. This is a relaxing massage enhanced with warm towel treatments and a customized blend of warm essential oils bringing balance and healing to your body.

Neck, Back & Shoulders
30 minutes $45
A relaxing body break with focus on those specific trouble spots and stressed areas.

Packages Deals - a $15 savings

Swedish Massage Package
(3) 60 minute $200

Deep Tissue Massage Package
(3) 60 minute $215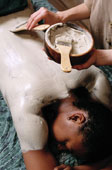 Detoxifying Body Wrap
75 minutes $75
A solution of mud blended with herbs and essential oils is brushed on to the entire body to release toxins and leave skin firm and refined. Warm herbal infused linens are wrapped around your body to further cleanse and relax the body and stimulate the elimination of toxins and relieve sore muscles while nourishing the skin. Can also aid in weight loss.

Series of three treatments for $215.00 (savings of $10.00),
Series of six treatments for $430.00 (savings of $20.00).

---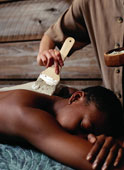 Exfoliating Body Scrub
75 minutes $75
A combination of Mineral Sea Salt and Essential Oils are gently massaged over the body to exfoliate dry surface skin. The scrub is removed with a treatment of warm towels finished with a slathering of hydrating body crème.

Mineral Sea Salt Scrub with paraffin
30 minutes $40
Enjoy a luxurious hot towel treatment, hand or foot scrub and paraffin treatment. Add a pampering hand and arm or foot and leg massage with essential oils followed by a hydrating body crème.

Hands and Feet - double the treat
45 minutes $55

Foot Reflexology
The intent of general Reflexology is to clear congestion, with the added benefit of reducing stress, tension and anxiety, causing relaxation, and aiding the body to begin an inner healing process through massage of pressure points and nerve endings in the feet.
30 minutes $35
60 minutes $60

Series of (3) sessions
30 minutes $105
60 minutes $165

Add-on to any service
20 minutes $25
---